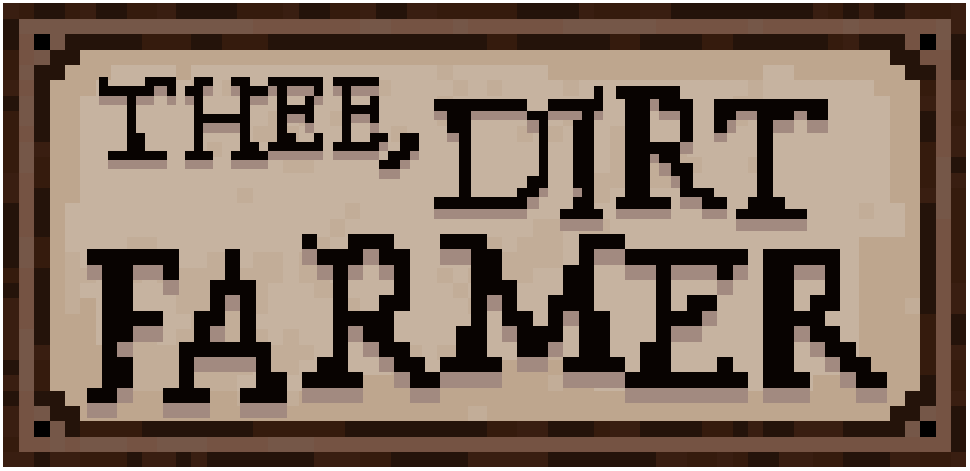 Thee, Dirt Farmer *Classic*
coming soon: dirt farmer 1.0
Now that the lowrez jam is over I plan to overhaul this entry and turn it into something actually playable! Coming in a 1.0 update:

- prize winning soups and easier gameplay

- sound fx

- story's back
- slightly easier controls
- farming non dirt things
- trees that don't instantly respawn
- better soup control
- more fish
- a gun!
- reworked ui
- lots more!
- dirt farmer classic will stay up as an html game for now!
Make A Soup! Dig In The Dirt!
Controls:
DPAD or WSAD for movement. Hold UP when you see an arrow to interact with something. or DOWN to check the soup flavor.

GAMEPAD A or SPACE to use whatever item or tool you are holding, or confirm an interaction.

Hold GAMEPAD X or E to open your pack, then use the DPAD or WSAD to cycle through tools and items.
You have three days to make a soup! Your goal is to make a soup by keeping the pot hot and adding ingredients to it. Try to keep it balanced!
Known Bugs:
- game *might* not be winnable
- seed is useless because i couldn't make it to plant farming
- story got yeeted in favor of getting semi finished
- no sound fx
- adding some ingredients does not take them from yer inventory :(
This game was made over the course of a week-and-a-half for #LOWREZ 2020! I wasn't able to squeeze in everything I wanted, or even sound effects.